2015 Law Day Essay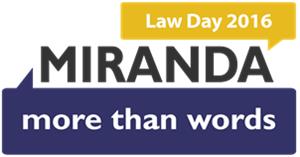 The American Bar Association has selected the 2016 Law Day theme, "Miranda: More than Words," in recognition of the 50th anniversary of the U.S. Supreme Court decision in Miranda v. Arizona.
Law Day began in 1958 when President Dwight D. Eisenhower proclaimed Law Day to strengthen our great heritage of liberty, justice and equality under the law. This year the Pennsylvania Bar Association is celebrating our 16th year of Law Day activities. The theme for Pennsylvania's 2016 celebration is the same as the American Bar Association's theme, "Miranda: More than Words," in recognition of the 50th anniversary of the U.S. Supreme Court decision in Miranda v. Arizona.
The Pennsylvania Bar Association and local bar associations across the state will sponsor Law Day activities throughout the month of May. In addition, schools, lawyers and judges are encouraged to work together to arrange for classroom visits and to use the PBA's free law-related lesson plans in all schools.
Justice Wecht's Law Day Remarks, May 2, 2016
Pennsylvania Supreme Court Justice David N. Wecht spoke on the importance of the 50th anniversary of the U.S. Supreme Court decision in Miranda v. Arizona during the celebration of Mercer County Law Day on May 2. Read Justice Wecht's remarks. Read The Pennsylvania Lawyer magazine article adapted from his remarks for the November/December 2016 issue.
K-12 Student Contests for Law Day
The Pennsylvania Bar Association and Pennsylvania Bar Foundation are pleased to announce the 2016 Law Day poster, essay and video project contests for students. The theme for this year's entries is "Miranda: More than Words." The deadline for entry is March 31, 2016
Contest Rules
Poster and Essay Contest Entry Form
Video Contest Entry Form
Law Day 2016 Registration Form for County Bar Associations in Pennsylvania (Word) (PDF)
Why We Celebrate Law Day - Charles Rhyne, president of the American Bar Association in 1957, is credited with being the person who thought of the idea for Law Day-U.S.A. He said, "The thing we want people of the whole world to know is that in our country we are more proud of our moral principles as expressed in the concept of our government of laws than we are of any materialistic accomplishment or achievement of our people. It is the purpose of 'Law Day-U.S.A.' to highlight this basic fact - thereby throwing a spotlight upon the rule of law in America, expressing to the people of the world our admiration and respect for the rule of law as the key to individual freedom and justice." Read the text of Rhyne's original radio broadcast, delivered on the first Law Day, May 1, 1958.
Law Day Planning Guide from the American Bar Association - The ABA Law Day Planning Guide is available as a PDF file that can be viewed on a computer or printed, and as an iBook that can be viewed using and iPad. You can download them both on the American Bar Association website.
2016 Law Day Word Searches
Word searches are a fun activity for students and something you can leave with them to complete and take home to share with their parents after your visit. You can go over the words with the students and ask them if they know what the words mean. This activity involves the students in the lesson instead of you lecturing to them about legal terms. Their responses create discussion opportunities in which you can clarify any misperceptions students have and you can ask questions to help them and their classmates think a bit more about their responses.
Guide to Using Word Searches in the Classroom
Elementary Level Word Search
Middle to High School Level Word Search
Talking with Young Students about Conflicts and Justice
Watch this three and a half minute video featuring Supreme Court Justice Sonia Sotomayor as she visits with her friend Maria on Sesame Street and talks about her job as a U.S. Supreme Court Justice. While visiting, she helps Baby Bear and Goldilocks peacefully resolve a dispute over Baby Bear's broken chair. This could be a great opening for a lesson with young students in grades K-3.
Applicable for Any Grade Level

Kindergarten through Second Grades (youth ages 5-7)
It's never too soon to start teaching about the law, however, with this age group the best advice is to keep the message simple and short. You should only try to "teach" or talk about one or two big concepts - like why are rules important, what does it mean to be responsible, etc. One of the best ways to do this is by reading a story and then asking questions to help students apply the information to their own lives. Young people this age will have lots of questions, energy and stories to tell you.
Orb and Effy - Print this fun story developed by the Center for Civic Education and read it to the students. Sample questions are included - you don't have to cover everything in the lesson plan, the lesson was developed for classroom teachers to use for Constitution Day, but the story is a great start to engage students in a dialog about authority, leaders and rules any day of the year!
Reading List - Visit your local library or bookstore to select a favorite book from the list provided. Read it to the students and then talk about the theme. The books selected on the list all have themes related to the law and responsible citizenship.
Upper Elementary (Grades 3-6 or youth ages 8-11)
Courts
Case of the Missing Puppy - This scripted mock trial that teaches students about the civil trial process. The case takes about 50 minutes including an introduction and follow-up. It is recommended for third through sixth grades, due to the reading that is involved. This is a fun, interactive, positive learning experience. The case engages students and gives each student a role to play. Examples of things you might say to introduce the lesson are included. You serve as the judge - wear your robe and bring your gavel!
Laws and Decision-making
No Animals in the Library - This is a fun exercise that requires students to think about making decisions based on an unclear rule and then consider the consequences of their decisions. A sample introductory script is provided to give you some ideas on how you might talk with students about your job and tie in the "No Animals" lesson.
Middle to High School
A Primer on Miranda v. Arizona developed by Street Law.
Lesson Plan on the Miranda Case
This short lesson from iCivics can be used at the middle or high school level. It provides a brief overview of the U.S. Supreme court's decision in Miranda and helps students understand how the Miranda warnings relate to the Constitution and
High School Level
The Right to Remain Silent: Miranda v. Arizona
This 25-minute video documentary from the Annenberg Classroom explores the landmark Supreme Court decision Miranda v. Arizona that said criminal suspects, at the time of their arrest but before any interrogation, must be told of their Fifth Amendment protection against self-incrimination and Sixth Amendment right to an attorney. The decision led to the familiar Miranda warning that begins, "You have the right to remain silent. …" Use these discussion ideas to explore the topic further with students.
Miranda v. Arizona, "YOU HAVE THE RIGHT TO REMAIN SILENT" lesson plan from the South Carolina Bar Association.
C-SPAN Classroom's Supreme Court Landmark Cases - Miranda V. Arizona
Jeff Rosen and Paul Cassel talked about the 1966 U.S. Supreme Court case of Miranda v. Arizona, in which the court ruled 5-4 that criminal suspects must be informed of their right against self-incrimination and their right to consult with an attorney before being questioned by police.
Miranda v. Arizona
The federal courts' website has an excellent lesson at http://www.uscourts.gov/educational-resources/educational-activities/miranda-v-arizona, developed to teach high school students about Fifth Amendment protections and the U.S. Supreme Court decision in Miranda v. Arizona.
This Fifth Amendment activity is based on the landmark Supreme Court case Miranda v. Arizona dealing with the rights someone has while in police custody. In J.D.B. v. North Carolina, the Supreme Court decided that juveniles have the same rights as adults. Apply these precedents to this updated, relatable scenario in which a teen is taken into police custody on suspicion of shoplifting.
Laws and Decision-Making
No Vehicles in the Park - This lesson engages students and adults by asking them to think and decide on various hypotheticals. By doing this they begin to understand what goes into making a law, why laws are needed, the difficulty in making decisions based on an unclear law and then considering the consequences of their decisions on individual citizens and the community.
I Can't Wear What? - In this lesson from the iCivics web site, students meet Ben Brewer and find out what happened the day he decided to wear his favorite band T-shirt to school in violation of a new dress code rule. Students read a summary of a Supreme Court case to figure out the "rule" that applies to Ben's problem. Everything you need to deliver this lesson, including step-by-step instructions, is provided by the iCivics team. Many other great lessons are provided on the iCivics website.
Why We Have/Need Rules and Laws - This exercise asks students to think about the need for laws using a hypothetical situation where there has been a natural disaster.
High School Seniors
Rights and Responsibilities
Stepping Out - The PBA "Stepping Out" program is designed to help graduating seniors make the often intimidating first step into adulthood by providing them with valuable information on such legal matters as renting an apartment, buying a car, driving under the influence, marriage and divorce. Judges can use the information in this booklet as a guide to talk with teens and young adults about the legal issues and responsibilities that will impact their lives.
| | |
| --- | --- |
| Law Day 2016 Planning Schedule | |
| February - May 2016 | Law Day 2016 Lesson Plans and Resources Available |
| May 1, 2016 | Law Day |
| May 1-31, 2016 | Schools, Judges & Lawyers Celebrate the Law |
Please call the PBA at 800-932-0311, ext. 2256, with any questions. You may also email your questions to lawday@pabar.org.
Click here for information on 2015 and the PBA's previous years' Law Day celebrations.
About the 2018 Law Day Theme
Separation of Powers: Framework for Freedom
The U.S. Constitution sets out a system of government with distinct and independent branches—Congress, the Presidency, and a Supreme Court. It also defines legislative, executive, and judicial powers and outlines how they interact. These three separate branches share power, and each branch serves as a check on the power of the others. "Ambition must be made to counteract ambition," James Madison explained in Federalist 51. Why? Madison believed that the Constitution's principles of separation of powers and checks and balances preserve political liberty. They provide a framework for freedom. Yet, this framework is not self-executing. We the people must continually act to ensure that our constitutional democracy endures, preserving our liberties and advancing our rights. The Law Day 2018 theme enables us to reflect on the separation of powers as fundamental to our constitutional purpose and to consider how our governmental system is working for ourselves and our posterity.
---
Law Day 2018 Planning Guide
Download the 2018 Law Day Planning Guide
Packed with useful information for planning Law Day activities that incorporate the theme "Separation of Powers: Framework for Freedom," the 2018 Law Day Planning Guide is a great resource for Law Day planners and organizers. Visit our planning guide web pagefor lesson plans and additional resources.
Law Day 2017 Award Winners
A great deal of effort, hard work, and creativity goes into planning and implementing Law Day activities. Take a look at our 2017 Law Day Outstanding Activity Award winners to learn about how they planned activities around the theme, "The 14th Amendment: Transforming American Democracy."
---
Law Day Products
Law Day 2018-themed products are now available in the ABA Webstore. Items include t-shirts, mugs, bags, postcards, and more. Shop today while supplies last.
---
Download Law Day Artwork
Click here to view and download Law Day 2018 in a variety of sizes and file formats.
---
View ABA President Hilarie Bass's Law Day 2018 Message



FAQs About Law Day
What is Law Day?
Law Day is held on May 1st every year to celebrate the role of law in our society and to cultivate a deeper understanding of the legal profession. Learn more about the history of Law Day and past themes here.
How can I receive updates about Law Day 2018?
Click here to sign up for updates and announcements as we gear up for the 2018 Law Day theme. Be the first to know when Law Day planning guides, teaching resources, products, and other useful items become available.
Where can I find Law Day products?
Law Day products are available in the ABA Webstore. Shop while supplies last. Sign up for updates to learn more about product availability.